Furniture Lifting Service
Are you moving, building or renovating in Sydney? Are you buying new furniture or appliances? Your large table, fridge or sofa won't fit in the lift or stairs?
We have the solution! Move your bulky items to upper floors with our furniture lift truck… on the outside of the building rather than through the building.
We help families and businesses with hoisting their bulky items over the balcony, through a window or to a roof.
We lift plasterboard, cabinets, benchtops, lounges, dining tables, windows, decking, tiles and more.
We assist with whole removals and deliveries.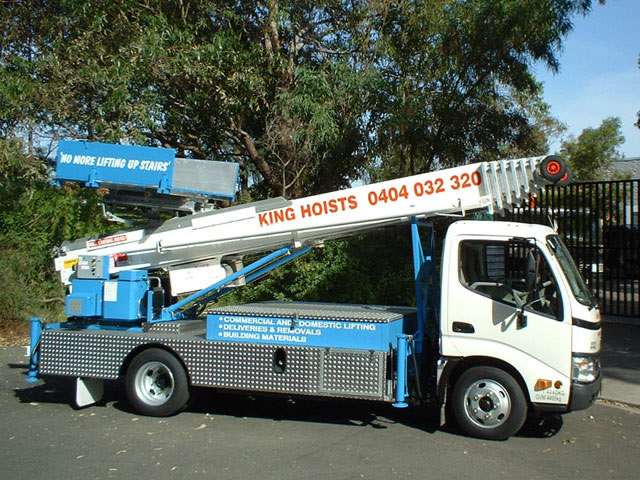 Furniture Lifting Equipment
We have a compact furniture lift truck that has a large lifting platform or container with a 300kg lifting capacity and a 33m reach (10th floor). The furniture lift truck lifts multiple loads fast and has a small set-up footprint (it fits into driveways). There is no need to block off a whole street as you would for a large crane. We provide an experienced operator who can provide advice on loading and unloading.
Take the hassle out of moving large items up and down multi-storey buildings. Our furniture lift truck ensures you can lift many items in a short space of time and can get your job done quicker and more efficiently, with less effort, fewer injuries and less damage both to the items being moved and to common property
King Hoists provides a furniture lifting service in the Sydney Metropolitan Area using a furniture lift truck equipped with an inclined hoist. Call Michael King on 0404 032 320 to see how King Hoists can help you.